Create QR Codes that you can save to your computer, display in your website, print and share with others.
Customize data, size, colors, and footer text. (QRickit does not modify your data when generating QR Codes.)
Create standard gif, jpeg and png image files.
Create high resolution 2400x2400 pixel png and 300 dpi jpeg image files for graphic design and high-quality printing.
Print on your home or office printer. An easy-to-use online flyer/poster/sign maker is also available to help you show off your QRickit.
Quick, easy and totally FREE! (No app to download. No account signup or personal info required.)
The data you choose to enter is only used to generate your QR Code image online in realtime and is never saved/stored.
---
Social Media QR Code: Create a QR Code with all your social media links like Instagram, Twitter, YouTube, TikTok, LinkedIn, Facebook, or any link. You can add your name (or nickname) and email address too. When people scan your QR Code they can save you and your links to their contacts and/or go to your links.

Save your Social Media QR Code to your phone, display it online, or print it!
Create one now!

* I used the QRickit QR Code Creator for Contacts (vCard) to create the example Social Media QR Code. I saved the jpg to my pc and then placed the QRickit logo on top using Photoshop. I tried different logo sizes and made sure I tested with my smartphone to see if it was still readable. You too can customize, colorize, and stylize your QR Code using any image-editing software. Read more
---
COVID-19 Tracing: QRickit offers a free and simple-to-use (no app download, no account sign-up) Customer Check-In QR Code for shops, restaurants, gyms, museums, clubs, venues, events, and other businesses to keep logs of customers or attendees for COVID-19 tracing purposes. Download the QR Code you create then print a sign/poster on your home or office printer to display or distribute at your business or event.
Get Started | View Example

Take care and stay safe everyone. From your little friend...

QRickit
---
Bitcoin and Other Cryptocurrency QR Code: Create a QR Code so people can easily send/pay you Bitcoin, Bitcoin Cash, Ethereum or other popular cryptocurrency.

As the use of cryptocurrency becomes more widely accepted, this type of QR Code makes it convenient for individuals, shops and other businesses to conduct cryptocurrency transactions. Create one now!

* A cryptocurrency wallet address is required to accept funds in cryptocurrency. Also, a QR Code-compatible cryptocurrency wallet app is required to scan and process this type of QR Code.
* You can actually donate Bitcoin to QRickit using the QR Code on the left.
---
Share QRickit with your Friends, Family and Colleagues!
---
---
QRickit Quick Tip #1: Just copy and paste the following in front of any URL you are viewing in your browser and hit enter to get a QR Code for it: https://qrickit.com/api/qr.php?d=

QRickit Quick Tip #2: Just copy and paste the following into your browser, add your text after it and hit enter to get a QR Code for it: https://qrickit.com/api/qr.php?d=

*You can then bookmark, copy or email the link to the QR Code.
---
Recommended QR Code Dimensions and Colors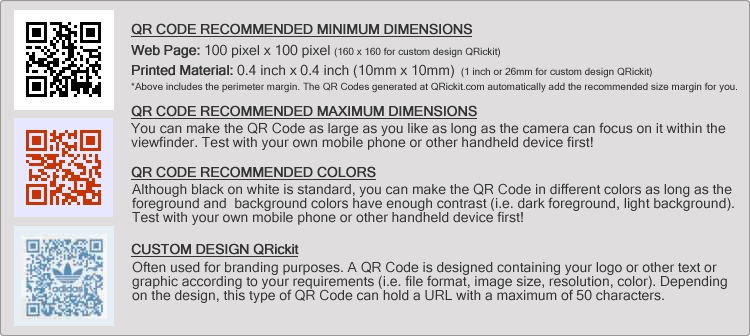 ---
If you find QRickit useful, please make a donation so QRickit can continue to provide this free public web service.
---
QRickit also offers a free QR Code API so you can dynamically generate and display QR Codes on your website, blog, emails, or online application.
Learn more about QR Codes and follow QRickit on social media.
---

Copyright © 2008-2021 JICS MEDIA

QR Code ® is a registered trademark of DENSO WAVE INC. in JAPAN and other countries.
QRickt is a free online service provided by JICS MEDIA to promote the understanding and use of QR Codes around the world.